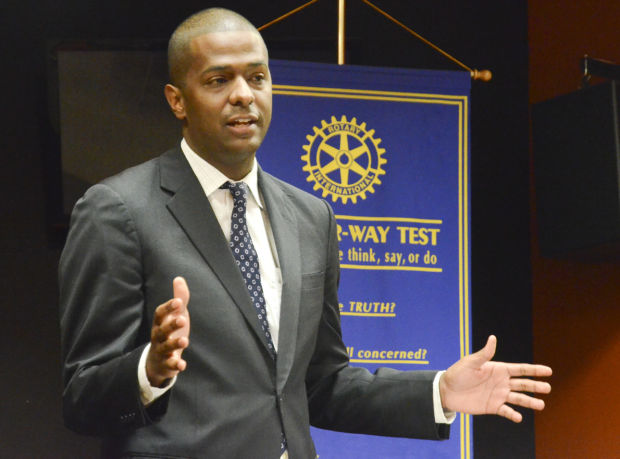 State Rep. Bakari Sellers, a candidate for lieutenant governor, told the Rotary Club of Orangeburg Wednesday morning that his Bamberg County roots and six-point plan to revamp the Office on Aging are among his strengths.
"By 2030, South Carolina's senior population is expected to double to approximately 1.8 million," Sellers said.
"Although the senior population is the fastest growing in the state, it's also the fastest group going into poverty," he told a group of nearly two dozen Rotarians.
Sellers, who was the youngest member of the General Assembly when he took office eight years ago, is touting a plan to take care of the generations who came before him. He did not seek re-election to his House seat.
The Denmark Democrat said he'll continue to communicate effectively with Gov. Nikki Haley, a Republican, if both he and she are elected on Nov. 4.
Rotarian Ralph Faulling asked Sellers about how closely the lieutenant governor and governor work together.
Sellers said, "Gov. Haley and (former Lt. Gov. Glenn) McConnell, you could not find any more bitter enemies than those two."
Haley and former Lt. Gov. Ken Ard, "had no communication between them at all," Sellers said. Ard resigned from office and pleaded guilty to ethics violations in 2012.
Sellers said that former Gov. Mark Sanford and former Lt. Gov. Andre Bauer did not get along.
"Gov. Haley and I are both from Bamberg County," Sellers said. He described their communication as "cordial."
Sellers believes his "Senior Plan" will have the support of the state's Democrats and Republicans.
"Our seniors have been neglected too long," Sellers said.
Sellers added, "I'm tired of people talking about black or white or Democrat and Republican. These are issues that are relative to South Carolinians."
Sellers said he's seeking the lieutenant governor's office because he wants to help seniors.
"No one's talking about senior issues," Sellers said.
His plan calls for:
* Expanding the state's investment in senior transportation.
* Advocating for tax relief packages for caregivers and long-term care insurance premiums.
* Leading the Senior Fraud Taskforce.
* Expanding the senior homestead exemption.
* Strengthening the continuum of care.
* Transforming the Office on Aging into a driving force for advocacy on behalf of Alzheimer's patients and their families and increasing Alzheimer's research
Sellers vowed that within his the first 100 days in office, he will "coordinate with the South Carolina Department of Transportation and the Human Services Transportation Committee to develop a statewide senior transportation plan that would identify sources of public funding and plan to secure such funding in order to support private and public senior transportation providers."
In addition, Sellers said there are 770,000 caregivers to senior citizens throughout the state.
"Upon being elected, I would advocate for a $500 annual tax credit for caregivers," he said.
Sellers spoke about senior citizens falling prey to fraud.
He said when he recently visited the Cordova Senior Center, he learned that some of the area seniors weren't getting their Medicaid checks because someone was stealing them from their mailboxes and cashing the checks.
In addition, he said seniors often become victims of scammers.
A taskforce of state-level law enforcement officials and agents is something seniors in South Carolina desperately need.
"Despite the rise in senior fraud, there is not a single group in state government whose sole purpose is to protect our seniors from fraud," Sellers said.
Sellers noted he's a "huge proponent of Medicaid expansion."
Former S.C. Attorney General Henry McMaster is running as the Republican candidate in the lieutenant governor's race.
Contact the writer: mbrown@timesanddemocrat.com or 803-533-5545. Follow on Twitter: @MRBrownTandD.